My firstborn graduated high school yesterday. Pretty bloody impressed with him really.
It was a rather nice event as things go.
He's the younger one.
I got home quite late sat down at the comp and went,
"The only post I can write right now is one that says: No post tonight!"
Back on track today, in keeping with reporting week I'm sharing a piece I finished over a year ago but have not previously shared images of.
A Northern White Rhino. I started this one sometime around the time the species was declared extinct in the wild back in 2011. I've dated it as 2013 on the back but I'm pretty sure it sat unfired for about a year after that.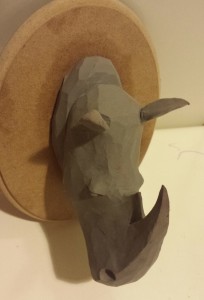 Super Sculpey and Super Sculpey firm (bake-able polymer clay) over wire and foil on an MDF mount. It is clear that the WordPress post editor is not up tot he job of resizing and cropping of images so in future I'll revert to Ps. I finally stocked up on Sculpey again a few months ago but the urge hasn't struck at a convenient time since.
Still stewing on a topical political post, yet another very long day.
Watched this delightfully profane clip.