Somewhere in a photo album there is a photo of a a 6 or 7 year old me dressed in stonewash and a loud 80's shirt standing proud as punch with a bright red and orange BMX in front of my mothers house in Balmain. This house:
Photo snapped by my good friend Steven Kiernan on the way back from dinner a few nights ago.
That bike granted me freedom. A great deal of freedom. Much as the cop in 'Stranger Things' describes it; 'A bike Like that is a Cadillac to these kids'. With it I had freedom of the neighborhood and I used it. The most common journey for me was of course the seemingly epic ride to my school of the time. This weekend I decided to see just how far that really was. As it turns out it was only 800m and often done in company but often as not alone or on foot. The route I most often took is plotted below.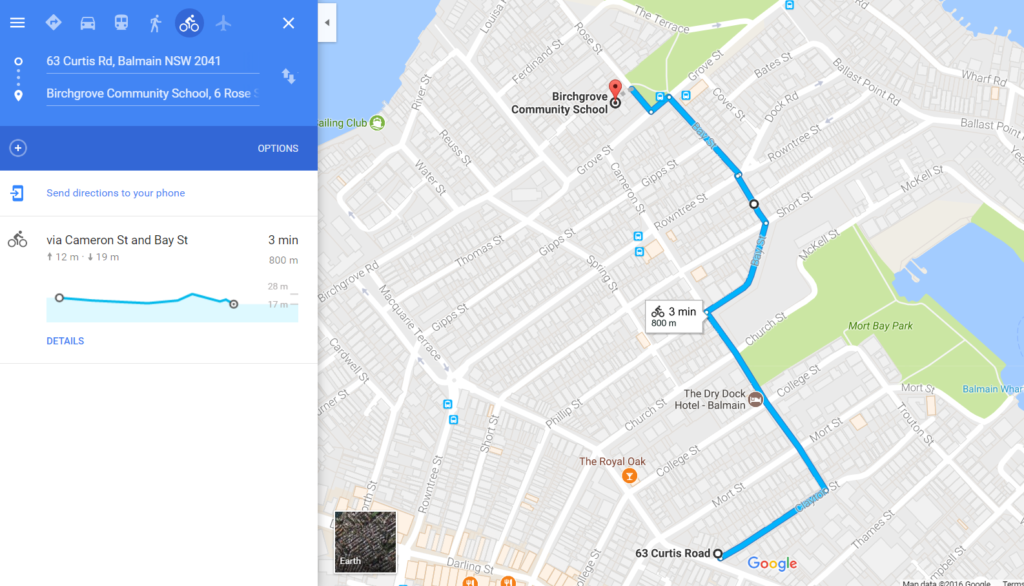 800m of freedom. Also of note at the time Mort Bay park was a derelict and forbidden wonderland that I was furiously lectured for exploring more than once. 
That journey is illegal now. Until the age of ten NSW children are apparently unable to even cross the road without assistance and police have been known to threaten DOCS involvement for independent children even when crossing a road is not required.
I was lucky then and lucky as a teacher at West End, my year four class of two years ago repeatedly won the 'Golden Boot' award for active travel with 100% of students walking, riding, Public transporting or Park and Striding (Driven but dropped off 500m distant). That is a rare thing and a credit to the West End public community. But only a handful traveled truly independently. I have also lived on the main access street for one of Brisbane's most prestigious private boys schools and the twice daily traffic jam of furious, stressed and ultimately dangerously driven luxury vehicles is memorable by comparison. Self reliance is not a skill that gets magically switched on at eighteen, it takes years and experience to develop. Only by giving children the trust to find their own limits and learn their confidence in their own abilities can it blossom. I believe walking to and from school independently is one of the safest and best ways for children to develop resilience and self reliance.
We are looking to live in a town/ village or community where children still play outside and where trusting children is normal. Such places do still exists but they are rare.
I would really like to see some more examples of others childhood walking journeys.
Not for competition mind,
ahem…
but because I think it would be nice to have a raft of good digital reference to use as a reality check for the more extreme variety of hysterical parents.  It is easy enough to do.
Start at google maps.
Search for the school or other feature you travelled to independently.
Select the directions button

Change the start location to where you began your trips and select the method of travel. You can drag the line of travel to match your preferred route.
Screen shot the result. In windows the built in screen cap utility 'Sniping tool' can be found by beginning typing its name in the start menu. On Mac, buy a PC.
I kid, I kid. Command + Shift + 4 will give you a custom area screen cap.
Upload to an image host of your choice, or email them to me to edit in here.
Thanks for participating.
Also check out free range kids if you like the idea.
Edit: First responder, my brother in law Ken Wilson provides this map of his walk from about grade 3 (probably 8 or 9 years of age) onwards with his sibling. Sandgate is a major road but the crossings are clear.