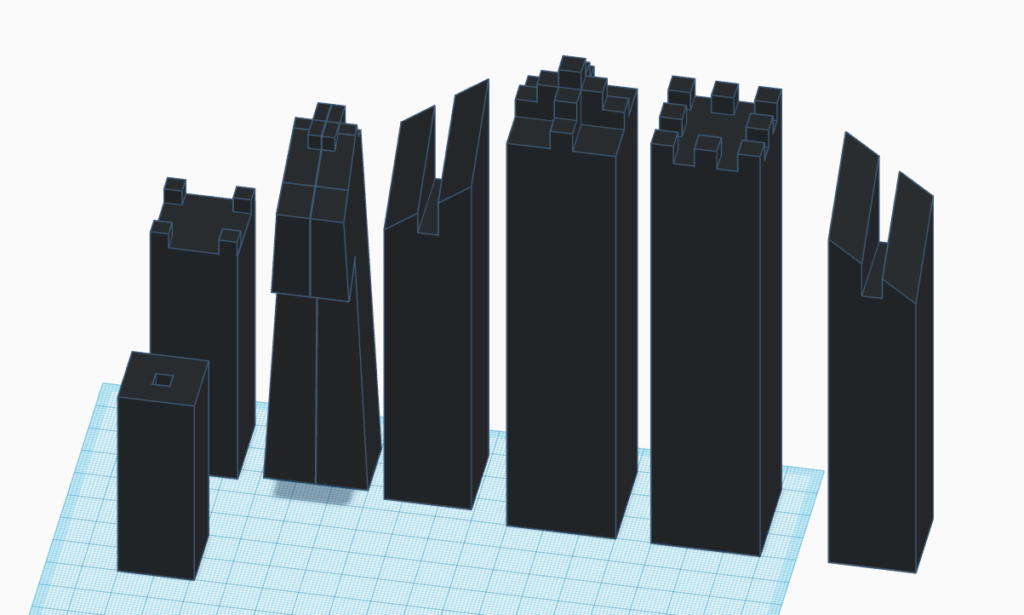 A rough draft of the Black order set
Teaching myself Tinkercad so as to be of use as a teacher of it for my students, who will be learning the program so that the 3D printer can be put to work. It is a basic and quite powerful modelling program. The controls are a little bit idiosyncratic and it has a tendency to dump the user back the main menu when doing hard operations, though it has so far not lost progress doing so. My first self set challenge is an Order vs Chaos chess set.
I splashed out and bought a couple of rolls of printing filament from these guys mid week so that I can get some personal printing done at work guilt free.
On Saturday N and I made the Dubbo run leaving the children with grandparents. A shockingly expensive shopping and very long drive later we made it home safe and have cupboards chock full with food and a shed full of timber and paints for projects.
I've been commissioned to build a set of portrait photography boxes and among the supplies purchased were two sheets of 12mm ply cut down to fit in the car. This project provided me with the first opportunity to put my mitre saw to use and my what a pleasure that machine is. All pieces are cut and ready for building and I even ripped down some off cuts to make parts for a nesting box. Assembly to happen later in the week.
Tuesdays are staff and year level meetings each week, meaning that I am usually not home until near six. I have found out that there is a Judo class on from Seven in the school hall on Tuesday evenings. I would like to attend but the mental hurdle of returning to work is a big obstacle. Wish me luck.
A few links to share from the last few days:
A beautiful representation of the causes of Global Warming.
Finalists of the Smithsonian Photo Competition
Do Want: Colour 3D Printed scale models of astronomical bodies.
I periodically return to the works of Simon Stålenhag (Sale site) Disturbing, fantastical and somehow totally believable they conjure a deeply uncomfortable alternative world. Someday I'll commit and buy a print. I just haven't settled on which yet.