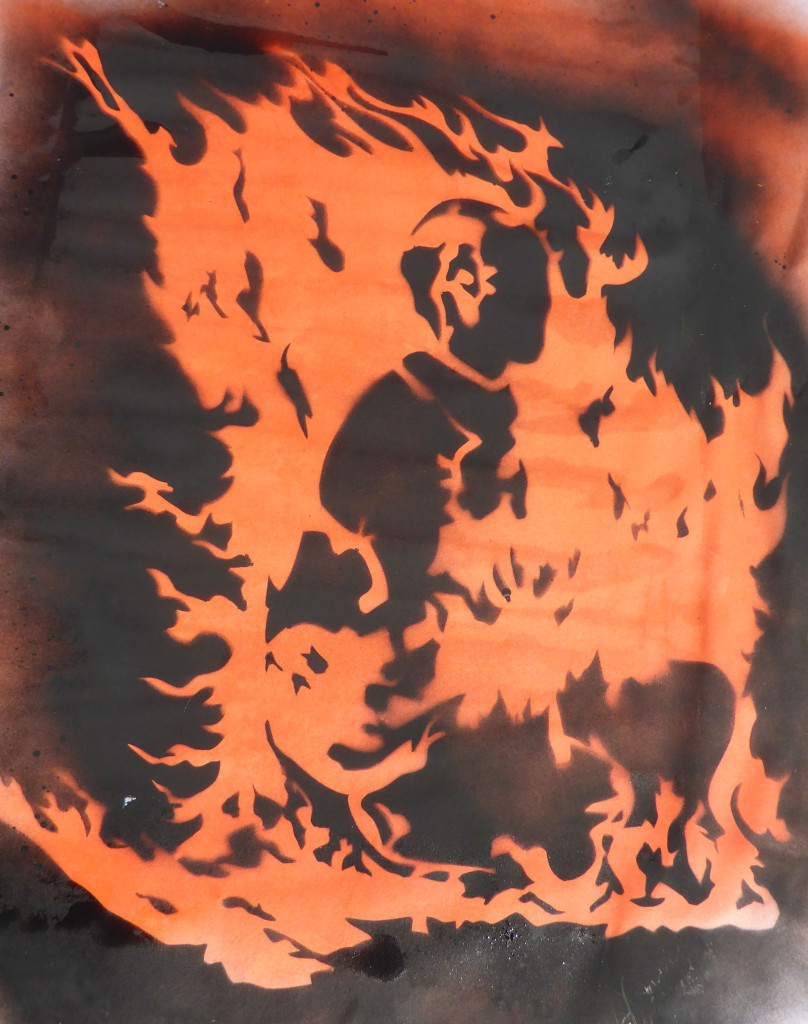 Single layer burning monk stencil 2007. Flood damaged print.
I made a mistake.
When Kevin Rudd returned during the 2013 election campaign and announced the PNG deal including the use of Manus Island I regret to say I thought the plan had merit. I argued the point with friends and family members and I have to my shame since been proven categorically wrong. I thought negating the 'Stop the Boats' rhetoric by redirecting boat arrivals might remove the awful political football that refugees have become in Australia from the game. My caveat was that redirections had to be to a relatively safe if not developed neighbor and a sharp increase in our humanitarian intake is required as well. Obviously none of this was not to be. Manus was plagued with problems from the start and Nauru remained a monstrosity from its reopening in 2012. Mr. Abbot was elected and Operation Sovereign Borders declared all on water maters classified. Whether or not the boats continue to come will eventually come out in the now inevitable royal commission some day. But for for those like Omid, declared a legitimate refugee but left to rot and go insane in a tropical goal staffed by private contractors and cut off from the world. There is no adequate recompense our nation can offer. But for goodness sake take up New Zealand's generous offer and let them go.
I don't think there is an easy answer to Australia's political issue with refugees. For a start the argument is rarely based in facts. Few Australians who are not passionate about one side of the argument even seem to know the basics.  We should be taking more people, many more. We are going to have to when climate affected island nations come knocking and it pays to be prepared. There will be no turning them away, they will have nowhere else to go. The fact that we are not doing our part to keep the earth under 1.5ºC of warming will only add to our burden then. The question in the mean time is how many can we take in, support, educate and provide accommodation to? We accepted over twenty five thousand refugees direct from UN camps last year. I personally don't think it is unreasonable to say we could take twice that, fifty thousand desperate people. Still only a tiny fraction of one percent of our population, a drop in the ocean of present refugees.
What do we do with the people who arrive after that arbitrary number is reached? How much infrastructure can we invest in making these people safe here. Am I asking it backwards? Should we instead be asking what wouldn't we give to make these people safe. Is there a maximum that our society can absorb without risking creating ghettos and escalating racial tensions? How much help can we offer these strangers before the hypocrisy of how we already treat the poor and dispossessed in Australia causes a social meltdown or a fascist counter movement?
How do we convince people that paying a smuggler and risking a treacherous sea voyage is a bad idea? Until we have an answer to that the political right is going to keep winning this argument and beating the left with prospect of yet more deaths at sea. Until an alternative vision is articulated with clarity the LNP will retain power and the camps will remain open. Clearly shame, christian values or even simple economics are not going to convince the LNP that a humanitarian approach has merit. Only by making a convincing case for an ethical and sustainable humanitarian response is there any chance of removing this issue from the political playing field altogether.
Would Australian funded UN camps in Indonesia be enough? Would offering low cost flights to an onshore processing centre?  I don't know.
I do know that system as it stands is abominable.
I'm sorry Omid.
I am sorry our government are such spineless jobsworth wankers. I am sorry that our press has used your fate and that of those like you as a bogeyman for illiterate bogans and as a stick for beating politicians they don't like.
I am sorry I haven't campaigned harder for the release of all detainees. Online petitions and the occasional rally that was convenient for me to attend don't amount to much. I'll be contacting my local National MP in person if possible for all the good it will do.
Peace