I have been stewing on this idea for a while and last night I settled on the URL.
I like sharing stuff, but I don't like Facebook very much (freebooting in particular has become a pet peeve), I've never succeeded in making Twitter habitual. Facebook is kind of inescapable and I've no intention of cutting myself of from it any time soon however, I want ownership of my posts and feed in a way Facebook will not provide. So I intend to primarily share via this platform for now. I'll post here daily to begin with but not all posts here will be shared to FB by default.
This blog is also to serve as a kind of accountability check for myself. I need a place for the kind of reflective record keeping that could be called I diary. I need it to serve a greater purpose than a live journal though. I am a creative, very much an ideas man and plenty crafty with my hands too. My biggest issue is that I struggle to see projects through to completion or for that matter to put enough time into my creative endeavors during the hum drum of school term working weeks. I have a number of projects and ideas I would really like to see through. Sharing progress publicly adds stakes, stakes are sometimes all it takes.
As for the title, I am named for the mountain Liathach on the north west coast of Scotland, Liatach is my middle name. According to my personal mythology my father climbed Liathach as part of some cadet like activity when he was sixteen (Confirmed by serendipitous fatherly phone call during the composition of this post). It left a profound impression on him, so much so that he gave his firstborn the name. I in turn gave it to my first born as well. Dad took my sister and I to climb it when I was fifteen and my sister was only ten, none of us has yet been up the final thirty metres to the mountains true peak. Liathach is one of the rarer set of munro that can be climbed direct from sea level. The day we climbed we saw a seal frolicking in the kelp in the bay below before turning to face the mountain which has in turn left its mark on me.
Photos from user Torridon_snails  of: http://www.walkhighlands.co.uk/Forum/viewtopic.php?f=9&t=16251 
The view West from the lower peak. I was last at this point 22 years ago, long before ubiquitous digital photography. I suspect dad has at least an image or two from the climb in hard copy somewhere.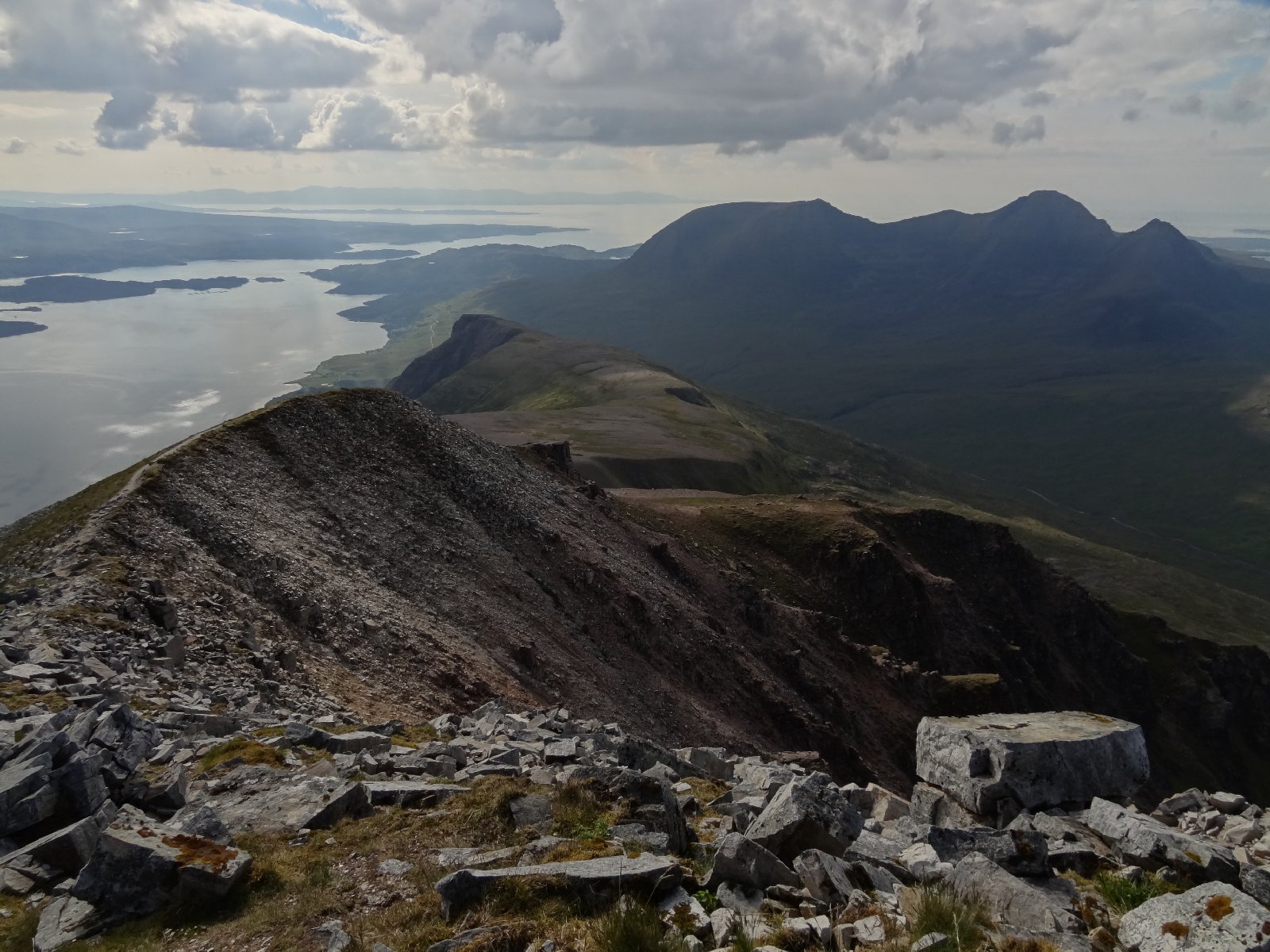 The view East to the true peak. I was, in a truly fifteen year old fashion, petulantly furious that dad wouldn't let us make the traverse to the true peak. Remembering the 10 year old sister who made it up to this point with probably less complaint than I and looking at the path ahead. I now understand completely dad.